High-tech solutions for
the OFFSHORE industry
Our solutions have been all around the world as well in the arctic areas. Besides Norway we have customers on all continents. The cost of recabling on a floating unit are enormous, so the products have to be the best we can manage in order to have the longest lifetime.
Besides our DNV GL approved Cat7/Cat6a solutions, we provide the whole range of cables from Draka Prysmian Group.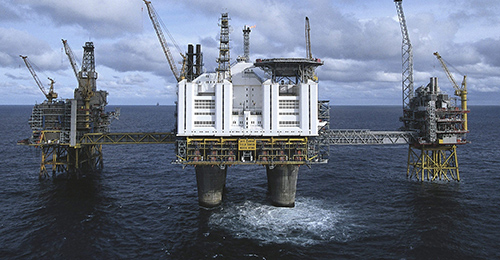 High-tech solutions
Oseberg field center
Products for the Offshore industry:
Bergen Cabling Maritime LAN Cat7 cable with SHF1 sheath

Cat7 DNV GL certified cable meant for use as installation/horizontal cable in tougher electrical and mechanical environment, including ships and offshore units

Bergen Cabling Maritime LAN hybrid cable Cat7+2SM fibres, SHF1 sheath

DNV GL certified hybrid cable with both Cat7 and 2x Bend Bright single mode fibers in one cable. For use in tougher electrical and mechanical environment, including ships and offshore units

Bergen Cabling Maritime LAN hybrid cable Cat7+2SM fibres, SHF1 and MUD sheath

DNV GL certified hybrid cable with both Cat7 and 2x Bend Bright single mode fibers in one cable. The cable has an additional fire retardant, halogen-free low smoke MUD protected outer sheath.For use in tougher electrical and mechanical environment, including ships and offshore units

Bergen Cabling Maritime LAN Cat7 cable with SHF1 and MUD sheath

Cat7 DNV GL certified cable meant for use as installation/horizontal cable in tougher electrical and mechanical environment, including ships and offshore units. The cable has an additional fire retardant, halogen-free low smoke MUD protected outer sheath

Bergen Cabling Maritime LAN Cat6A cable with SHF1 sheath

Cat6A DNV GL certified cable meant for use as installation/horizontal cable in tougher electrical and mechanical environment, including ships and offshore units

Bergen Cabling Maritime LAN Connector Cat6A STP, Keystone

Cat6a DNV GL certified connector for applications up to 10 Gbit. Can be used with Bergen Cabling Maritime LAN patchpanels and outlets. Also suitable for use with other vendors with keystone footprint

BC Maritime Housing IP67 w/1x Cat6a

IP67 outlet for harsh environments. For use with our IP67/IP20 patchcords

BC Maritime Housing IP67 w/2xCat6a

IP67 outlet for harsh environments. For use with our IP67/IP20 patchcords

BC Outlet 1xJ45 STP Cat6A RS, Keystone

Flush mount outlet with 1xCat6a keystone connector and Elko RS16 frame.

BC Outlet 2xJ45 STP Cat6A RS, Keystone

Flush mount outlet with 2xCat6a keystone connectors and Elko RS16 frame.

BC Outlet 1xJ45 STP Cat6A RS Angled, Keystone

Angled outlet with 1xCat6a keystone connector and Elko RS16 frame. Center plate is mounted with screw to ensure that it is properly fastened. Especially for use in maritime environment

BC Outlet 2xJ45 STP Cat6A RS Angled, Keystone

Angled outlet with 2xCat6a keystone connector and Elko RS16 frame. Center plate is mounted with screw to ensure that it is properly fastened. Especially for use in maritime environment

BC Outlet 1xJ45 STP Cat6A TEK, Keystone

TEK outlet with 1xCat6a keystone connector. Boxless type for use with TEK/INKA trunking

BC Outlet 2xJ45 STP Cat6A TEK, Keystone

TEK outlet with 2xCat6a keystone connectors. Boxless type for use with TEK/INKA trunking

BC Outlet 1xJ45 STP Cat6A Optiline, Keystone

Optiline outlet with 1xCat6a keystone connector.

BC Outlet 2xJ45 STP Cat6A Optiline, Keystone

Optiline outlet with 2xCat6a keystone connectors

BC Outlet 1xSTP Cat6A DIN, Keystone

DIN mount outlet with 1xCat6a keystone connector. Complete with dust cap and side cover

BC Outlet 1xRJ45 STP Cat6A + Duplex LC 9/125

Outlet for use with the hybrid cable. Comes with Cat6a connector and LC Duplex adapter.

BC Outlet 1xRJ45 STP Cat6A RS Angled, Keystone w/wallbox

Angled outlet with 1xCat6a keystone connector, Elko RS16 frame and 33mm backbox. Center plate is mounted with screw to ensure that it is properly fastened. Especially for use in maritime environment

BC Outlet 2xRJ45 STP Cat6A RS Angled, Keystone w/wallbox

Angled outlet with 2xCat6a keystone connectors, Elko RS16 frame and 33mm backbox. Center plate is mounted with screw to ensure that it is properly fastened. Especially for use in maritime environment

Patchpanel BNC 20p 75 ohm Bergen Cabling Maritime, empty

Heavy duty BNC solution for maritime and offshore installations. Suitable for BNC 75 ohm adapters with plastic rings for insulation (if needed)

Patchpanel XLR 16p Bergen Cabling Maritime, empty

Heavy duty XLR solution for maritime and offshore installations. Suitable for XLR adapters and other adapters with same form factor.

BC Patchpanel 1U 24p LC Duplex AISI 316L

Heavy duty fibre optic panel made of stainless steel. Loaded with LC SM duplex adapters

BC Wallbox Lockable LC SM for 36 DX adapters, SS316L, empty

Lockable wallbox made of acid free stainless steel. Suitable for up to 36 LC duplex or 36 SC simplex adapters.

Bergen Cabling Maritime LAN patchpanel 24p, Keystone, empty

Heavy duty acid free stainless steel Maritime LAN patchpanel for BC Cat6a keystone connectors. Also suitable for other keystone adapters (e.g. LC, HDMI, USB etc).

Bergen Cabling Maritime LAN patchpanel 24p black, Keystone, empty

Heavy duty stainless steel Maritime LAN black patchpanel for BC Cat6a keystone connectors. Also suitable for other keystone adapters (e.g. LC, HDMI, USB etc).

BC Hybrid panel Stainless steel 1U for fiber field termination

BC Hybrid panel 1U comes with 12xCat6a BC-11-004 connectors and 12xLC SM duplex adaptors. This version is for field termination with Unicam connectors as an option.

BC Hybrid panel Stainless steel 2U for fiber field termination

BC Hybrid panel 2U comes with 24xCat6a BC-11-004 connectors and 24xLC SM duplex adaptors. This version is for field termination with Unicam connectors as an option.

BC Hybrid panel Stainless steel 2 HU, empty

BC Hybrid panel 1U comes with 12xCat6a BC-11-004 connectors and 12xLC SM duplex adaptors. This version is for fusion splicing with LC SM pigtails as an option.

BC Hybrid panel Stainless steel 2 HU, fully equipped

BC Hybrid panel 2U comes with 24xCat6a BC-11-004 connectors and 24xLC SM duplex adaptors. his version is for fusion splicing with LC SM pigtails as an option.

BC Alu patchboks 4-12 port w/Cat6A Keystone

Patchbox in aluminium for use on e.g. shelfs, wall etc. 4, 8 and 12 ports available. Comes complete with BC Cat6a keystone connectors

Bergen Cabling Keystone Termination Tool

Termination tool for BC Cat6a keystone connectors

BC Patchcord Cat6A SSTP LSOH-FR Grey

BC Patchcords Cat6a SSTP grey. Low smoke halogen free and flame retardant. Standard lengths 0.2m to 20m

BC Maritime Patchcord IP67/IP20 Cat6a

BC Maritime Patchcords IP67 Cat6a IP67 and IP20. For use with BC-12-021/024. May be used with outdoor APs and CCTV.

BC Voice cord 1 pair RJ45-RJ45/IDC solid core LSOH-FR

BC Voice cords with either RJ45-RJ45 or RJ45-IDC. Low smoke halogen free and flame retardant. For use with digital PABX system.

BC Patchcord Cat6 FTP Waterproof

BC Waterproof Patchcords Cat6 FTP black. Lengths from 5m-25m.

LC-LC Duplex 9/125 Armoured & Waterproof

BC Fiber Optic Waterproof and Armoured Patchcords. LC SM Duplex from 0.5m-20m.

Bergen Cabling Industrial LAN Fibre Breakout cable G4 OM3

Fiber optic breakout cable for installations requiring an extremely rugged and reliable design

Bergen Cabling Maritime LAN AICI fiber

Fiber optic DNV GL approved cable for industrial, offshore and maritime environments. Suitable for both indoor and outdoor installation.

Patchpanel 1U Cat3 25 ports LSA Optronics

Patchpanel Cat3 for voice. 25 pairs.

Patchpanel 1U Cat3 50 ports LSA Optronics

Patchpanel Cat3 for voice. 50 pairs.

Patchcords Multi Mode OM1

Multi Mode 62.5/125 OM1 patchcords, orange. UPC connector LC/SC/ST/FC

Patchcords Multi Mode OM2

Multi Mode 50/125 OM2 patchcords, orange. UPC connector LC/SC/ST/FC

Patchcords Multi Mode OM3

Multi Mode 50/125 OM3 patchcords, orange. UPC connector LC/SC/ST/FC

Patchcords Multi Mode OM4

Multi Mode 50/125 OM4 patchcords, orange. UPC connector LC/SC/ST/FC

Patchcords Single Mode OS1/OS2

Single Mode 9/125 OS1/OS2 patchcords, yellow. UPC/APC connector LC/SC/ST/FC/E2000

Pigtail Multi Mode OM1

Multi Mode OM1 pigtails in 1m length, white. UPC connector LC/SC/ST/FC. Other colours and lengths on request

Pigtail Multi Mode OM2

Multi Mode OM2 pigtails in 1m length, white. UPC connector LC/SC/ST/FC. Other colours and lengths on request

Pigtail Multi Mode OM3

Multi Mode OM3 pigtails in 1m length, white. UPC connector LC/SC/ST/FC. Other colours and lengths on request

Pigtail Multi Mode OM4

Multi Mode OM4 pigtails in 1m length, white. UPC connector LC/SC/ST/FC. Other colours and lengths on request

Pigtail Single Mode OS1/OS2

Single Mode OS1/OS2 pigtails in 1m length, white. UPC connector LC/SC/ST/FC/E2000. APC, other colours and lengths on request

QFCI fire resistant cable for offshore, MUD

Optical cable for indoor and outdoor use in vital communication and emergency systems that need to be operational during fire. Outer MUD sheath

QFCI fire resistant cable for offshore

Optical cable for indoor and outdoor use in vital communication and emergency systems that need to be operational during fire

Patchpanel 1U 24ports FC

Fiber optic sliding patchpanel with for up to 24 FC Single Mode or Multi Mode adaptors, black

Patchpanel 1U 24ports ST

Fiber optic sliding patchpanel with for up to 24 ST Single Mode or Multi Mode adaptors, black.

Patchpanel 1U 24ports LC

Fiber optic sliding patchpanel with for up to 24 LC duplex Single Mode or Multi Mode adaptors, black

Patchpanel 1U 24ports SC

Fiber optic sliding patchpanel with for up to 24 SC duplex Single Mode or Multi Mode adaptors, black